hello. this is
CBD Liquid Exfoliator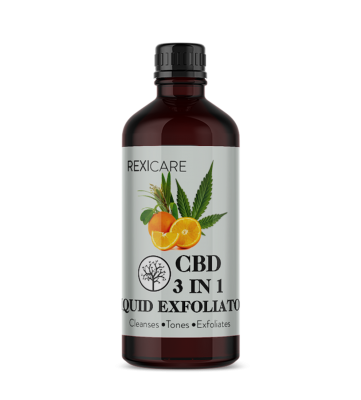 Traditional exfoliators can be abrasive, tearing at the skin rather than exfoliating. Our tried and tested formulation not only removes tired or dead skin, it also has powerful Vitamin C for anti-aging. Our CBD Liquid Exfoliator may also be used as a makeup remover.
* CBD Oil – Regulates skin oil production, reduces acne, anti-inflammatory, soothes sunburn, speeds up wound healing, assists with aches and pains.
Vitamin C – Boosts collagen production, smoother skin, fights free radicals.
* CBD 20mg / THC 0%
Hyaluronic Acid – Maintains collagen, retains skin moisture, diminishes skin wrinkles, evens skin tone.
Glycerine – Anti-aging, anti-irritant, improves skin permeability, rejuvenates skin cells, smooths skin, improves elasticity.
Water – Assists in extractions.
Medical Alcohol – Cleans and sanitises skin.
Orange Peel Oil – Decreases wrinkles, improves circulation, anti-aging.
Ylang Ylang – Antiseptic, hydrating, smoothing.